Meet London Chiropractor, Miles Bosoni
Call Today 020 8400 1996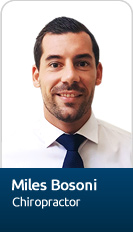 Miles Bosoni
MChiro
Member of British Chiropractic Association
Special interest in Sports Injury Treatment
Myofacial Blade Practitioner
ART® Certified
Miles' introduction to chiropractic began at the age of 14 when he sought treatment for a chronic rugby injury. With successful management of his injury, he was amazed by the rapid performance and health benefits he gained from a hands-on style approach to treatment, leaving an impression that would drive him towards fulfilling his passion to train as a chiropractor.
Education and Qualifications
Having completed a Diploma in Human Health Sciences at the Anglo European College of Chiropractic in Bournemouth, Miles went on to graduate with a Masters in Chiropractic (MChiro), a course that has allowed him to share in his passion for chiropractic and apply his extensive knowledge and practical ability in musculoskeletal therapies, anatomy, injury rehabilitation and adjustive technique.
Miles has played rugby to an extremely high standard throughout his school and university career, previously playing in the British Universities Premier League and touring South America, playing against national development squads. In recent years, he has focused his attention on triathlon, completing a variety of race distances, most notably Ironman Switzerland in 2013 and Ironman Mallorca in 2015. More recent introductions to yoga, meditation and pilates have allowed him to combine his passions for travel and exercise, seeing him train around the world from London to Bali and beyond.
Prior to joining ActiveBacks, Miles spent 3 years working part-time as a sports massage therapist in successful clinics in Richmond and Wimbledon, providing him with extensive experience working with athletes and their families. His treatments are by no means limited to sportsmen and -women; Miles' chiropractic experience has provided him with the skills and knowledge to successfully identify, manage and treat musculoskeletal dysfunction and chronic postural-related issues in both adult and paediatric patients.
Miles' Approach
As a keen sportsman, Miles' knowledge and understanding of the application of chiropractic, sports rehab and injury prevention forms the cornerstone to his approach for treatment. Treatment plans are specific and unique to each patient, and are aimed at treating the root cause, rather than the symptoms alone. A variety of methods are employed in working towards an agreed patient centred outcome to restore good function, including spinal manipulation, myofascial release techniques and post-isometric relaxation.
Further advice for home rehab, stretching and neuromuscular retraining allow patients to continue their improvements away from the clinic – applying the latest techniques and knowledge.
To schedule your new patient appointment, call us today.
I spent 7 years looking for a remedy for my knee and I got to a point where I genuinely thought nothing in the world would cure my knee issues and I would have to accept my misfortune. I was referred by my brother-in-law. After my first appointment, Miles Bosoni cured 75% of my issues… I cannot WAIT for my second appointment. Thanks guys!

Miles is an exceptional chiropractor. His knowledge is first-rate and his passion for his work also shines through. My consultation with Miles was extremely thorough and he explained the issues and then discussed a treatment plan to aid in the recovery of these issues. I instantly knew that I was in good hands and I was extremely confident that the treatment would be a success. I was utterly astounded at how quick the treatment worked. It was miraculous!

I was impressed with Miles knowledge and approach.

From barely able to bend to tie my shoes, to a regular back at the gym – in under 6 weeks, what I have experienced at Active Backs is nothing short of incredible. Miles thoughtfully steered me through a combined programme of hands on manipulation, small incremental lifestyle changes, and stretching and strengthening homework, which were very specific to my areas of pain and attentively evolved alongside my progress. Best of all I now know how to keep things in good shape for the future, and the new version of me is working better than it has in a very long time.

Thanks to Miles I now have a neck that doesn't creak or crunch and I can turn my head further than has been possible for years. I also have a fully mobile (and stronger) shoulder, and a set of straightforward exercises to keep me that way; and no pain whatsoever which is wonderful! After just one manipulation session I noticed a real improvement .The treatment and advice was all delivered in a warm and friendly manner, and I was given a regular reassessment to check progress.

I would thoroughly recommend Miles to anyone suffering from painful or immobile joints or spinal or muscle problems.

I came to ActiveBacks with a knee injury that I had seen various physiotherapists for over six years, and a debilitating back and arm pain. I couldn't sit or lie down without being in agony and was sceptical that I would be pain-free. Miles carefully assessed both injuries, gave me specialist treatment and also daily exercises to strengthen the affected areas. Within weeks I saw improvements, and in less than six months I was living pain-free. After six years of not being able to run for more than 15 minutes without being in pain, I am now able to run 5km three times a week and have progressed onto longer distances, recently reaching 15km. My arm and back have also been completely transformed. I can't believe the improvement and am very grateful for the positivity that Miles has shown throughout the process – thank you!

I've seen a lot of specialists for my knees, but after this first session I do feel I am finally in safe hands with Miles.

After 4 months of bouncing around places I finally feel like I'm in the right hands and finally know what's causing my pain and have a direction towards recovery.

From the first day miles was very professional and didn't waste any time. He thoroughly went through my medical history, reviewed my previous MRI scans and accordingly catered a program specifically for me. He introduced the graston technique and I can honestly say it has dramatically helped eliminate a lot of the pain I have been experiencing and I was able to lift my arms above my head which I previously found intolerable to do. I can't be thankful enough or happier. I feel more confident.

I would highly recommend anyone who is suffering from neck, spinal, hope or muscle problems to go to miles at activebacks. I am planning my next trip to London in a couple of months and will definitely be booking my appointments with Miles to continue my treatment again."

I had back problems for years, saw different physios and osteopaths but never made much progress. A friend recommended Active Backs and I saw Miles two months ago. I didn't have much hope and was beginning to think that it was just inevitable decline with age. But Miles has made such a huge difference. Things improved from the first session. He explained the issue very clearly, identified exactly what needed to be done and measured progress. I am so much better now. Miles has not only fixed my back but also my neck which feels better than it has in decades. I cannot recommend him more highly

Clear to see that the practitioners in the clinic are highly knowledgeable. Especially like the range of alternative treatments on offer. Look forward to working with Miles to resolve some long-standing issues.
---
London Chiropractor, Miles Bosoni | ActiveBacks | 020 8400 1996