Contact ActiveBacks
Email Us:
Clinic Address
ActiveBacks
330 King Street
Hammersmith, London W6 0RR
Phone: 020 8400 1996
See below for map and directions.
Fee Schedule »»
Initial Consultation from £100-£170
Treatment from £90-£125
Clinic Hours
Tuesday
9:00 am – 7:00 pm
Wednesday
9:00 am – 7:00 pm
Thursday
9:00 am – 7:00 pm
*We are closed on bank holidays.
Find Us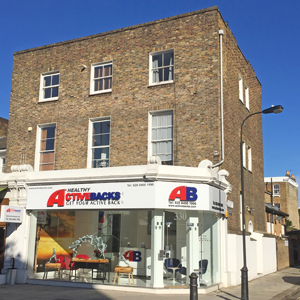 We are conveniently based in Hammersmith, West London, on the Chiswick/ Hammersmith border twenty minutes from central London and twenty minutes from Heathrow airport. Our clinic combines Chiropractic and Osteopathy with the state-of-the-art American soft tissue management system, Active Release Techniques.
At ActiveBacks we take a very special approach to the type of care that we provide and look forward to meeting you on your first visit.
Our clinic assistants are on hand to help should you require any further information, just pick up the phone or drop us an email.
There is plenty of street parking available nearby for which you will require the Ringo parking app as the coin operated machines are no longer in operation. Below is some information that will help you find us.