About ActiveBacks
Call Today 020 8400 1996
Since 2008, we've been attracting clients from throughout London, the UK and even abroad. This is made easier for our patients thanks to the vast array of transport links that are available to us here in West London.
One of our biggest drives is the encouragement and enthusiasm of our patients for the type of work that we do. We love meeting health-conscious individuals that want to get their active back! No matter how many times patients may have tried and failed in the past, the most challenging cases are often our most rewarding.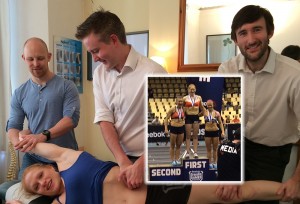 One of our most well-known patients actually lives in Iceland and was featured in the American April 2014 edition of Vogue magazine, charting her return to the CrossFit Games World Championships.
Our vision is to help as many people as we can in their various communities, providing a welcoming positive environment where our patients can feel safe and ensure that we can work well together to meet their holistic health needs.
Why Choose ActiveBacks?
To build a practice like ActiveBacks takes a lot of hard work, practice and passion. Because we recognise the importance of staying fit, healthy and having the ability to participate in all areas of life – big or small. That is why we have developed a propriety coaching process that allows us to combine our unique skill sets with your needs in a way that gets you to where you want to be, most effectively. It is thanks to the input and enthusiasm that our patients bring to the clinic that drives us.
We always love meeting new health conscious individuals that want to get their active back, no matter how many times they may have tried and failed in the past. The most challenging cases can also be the most rewarding ones. We are the first practice from Europe to be fully certified in Active Release Techniques, which is a world-renowned technique that helps to restore the healthy tissue you require to build strength and participate in rehabilitation following an injury (however old the injury).
We believe in working as a team, both in-house with our combined chiropractic and osteopathic skills as well as with any other member of your healthcare team. We have a network of many highly skilled Pilates instructors, Personal Trainers and coaches that can work jointly with us and our patients. Like other practices that offer chiropractic and osteopathy, we are fully registered and licensed, and covered by some health insurance providers.
Highly Satisfied Customers
Our testimonials demonstrate the benefits that patients have gained from our highly personal and professional service in Hammersmith and exactly how pleased they have been with their experience.
It is a privilege to work with so many dedicated, health conscious individuals who really appreciate the type of functional healthcare focus we provide, so thank you!
What makes us different is our unique approach to addressing someone's health issues. Whether you have a sports injury, joint pain, another musculoskeletal problem, repetitive strain injury or trouble with migraines, we ensure we fully understand your situation and health goals before making a thorough assessment and discussing the most appropriate treatment with you.
Our Treatments
Whilst being specialists in Active Release Techniques in London, we also deliver a range of other tests and therapies including kinesiology, gait analysis, traditional chiropractic and osteopathy techniques, Graston Technique, Applied Functional Sciences and Dry Needling. We likewise recognise that every patient is an individual, coming with a different set of circumstances and goals, so we will work with you to determine the most appropriate approach in your instance.
Get in touch with us today so we can schedule a time to get to know you, and get to know your health concerns and goals.

---
About ActiveBacks | 020 8400 1996